RIDE-AFRICA in partnership with Save the Children implemented Youth in Action project since 2013 in the six communities/Sub-Counties within the districts of Ntoroko (Bweramule, Nombe, Butungama, Karugutu, Rwebisengo and Kanara Sub Counties) and Kabarole (Kabende, Katebwa, Karangura, Rweetera Sub Counties).
The programs goal aimed at improving the Socio-Economic situation of 21,770 vulnerable, out of school, young people aged 12 – 18, both boys and girls, living in rural areas in 3 districts of Uganda, 26 sub counties in 3 Districts.
RIDE-AFRICA enrolled 19 cohorts for completion of this program.
Youth in Action (YiA), was a six-year youth learning and livelihoods 
program in partnership with Master Card Foundation. The program worked to improve the sustainable livelihoods of over 12,000 out-of-school girls and boys in Uganda. Finally the project that RIDE-AFRICA in partnership with Save the children implemented has come to an end this year 2018 with a lot of strides achieved both among the beneficiaries (youth) and the implementing organisations.

COMMUNITY DRIVEN APPROACHES TO PREVENT VIOLENCE AGAINST CHILDREN IN KASESE
In November 2015 RIDE-AFRICA a member of RWECO secured funding from EACF to implement a one year pilot project under the theme 'Community-led mechanisms to prevent violence against children and adolescents in Kasese District, Rwenzori Region'. However, after the implementation of the pilot project successfully, EACF granted the consortium a three year contract where the project was implemented in 8 sub counties of Kasese district by 4 RWECO member organizations (KALI, GHFRD, RIDE AFRICA and RICNET) as well as Kasese Guide Radio (KGR) which runs on a commercial basis and has a wider listenership to host weekly radio talk shows for the project. The name was also changed to community driven approaches to prevent violence against children in Kasese.
                      IMPLEMENTING AREAS
RIDE-AFRICA implemented the project in two sub counties that is kitswamba and Maliba Sub County. which operate in 4 schools in Ibuga, Kitswamba SDA, Nkaiga and Kyanya SDA primary school. RIDE-AFRICA worked with two women and two youth groups from each sub county, 10 households in the school environment and structures like 08 model couples and 60 child rights ambassadors.
YOUTH EMPOWERMENT SUPPORT (YES)
Yes II Overall objective is: 1000 deprived youth in rural and peri urban sub counties Kasese, Ntoroko, Bundibugyo district I Western Uganda realize social, civic , economic empowerment and are protected against exploitation and are able to hold duty bearers accountable for the fulfillment of their rights by end of 2017.
Specific objectives;
200 youth aged 15-24 engaged in gainful socio-economic activities that are marketable in their respective communities.
To sustain the capacity of existing child/youth protection structure to reduce and response to youth and child exploitation, violence and abuse.(CP)
3. Strengthen the capacity of youth platforms and network to advocate for their rights and hold duty bearers accountable for fulfillment of their rights (CRG)
INTERVENTION
YES II project started in Ntoroko from 2016 -2018 and nine youth groups have been established having group businesses in Tailoring, Carpentry, hair dressing while most of the youth have opted for individuals businesses.225 (102M, 123F) were enrolled and completed vocational skills training in the district of Ntoroko. 16 VSLA groups have been formed with in the three town councils of Rwebisengo, Karugutu and Kanara. The groups have 303 members majority of who are youth completed vocational learning. 4 child rights formed with in the 4 ALP centers of Nyabusokoma -Karugutu/C, Rwangara and Kachwankumu – Kanara S/C, Ntoroko-Kanara T/C. 3 youth plat forms formed with in the S/Cs of Karugutu, Rwebisengo and Kanara.
COMMUNITY HEALTH FACILITY FRAMEWORK / ORPHANS AND VULNERABLE CHILDREN
The project, Community-Facility Health Facility Framework was implemented in 8 sub counties, including Karangura, Karago, Kicwamba, Bukuuku, Karambi, East Division, West Division and South Division of Kabarole district with partnership with 9 health facilities including Fort-Portal Regional Referral Hospital, Kasusu HC III, Karambi HC III, Kagote HC III, Mucwa HC III, Kicwamba HC III, Bukuuku HV IV and Kataraka HC IV.
RIDE-AFRICA also supporting 3 PHA groups that were assessed and sub-granted to implement key activities aligned to the MOH/UNAIDS 90-90-90 targets geared at bridging the existing gap of comprehensive HIV/AIDS service delivery in the communities served.
RIDE-AFRICA therefore identified, recruited and trained 35 Community health workers and 20 Para social workers to support the provision of HIV/TB community based care and strengthen community to facility referrals through CDOs/ Health facilities for clients requiring services. With support from Baylor Uganda, Linkage desks were established and 8 Linkage and Referral Assistants identified, trained and supported in 8 health facilities to coordinate referral processes with the identified PHA groups.
COMMUNITY ACTION TO PREVENT AND MANAGE CONFLICTS AND HUMAN RIGHTS VIOLATION IN RWENZORI REGION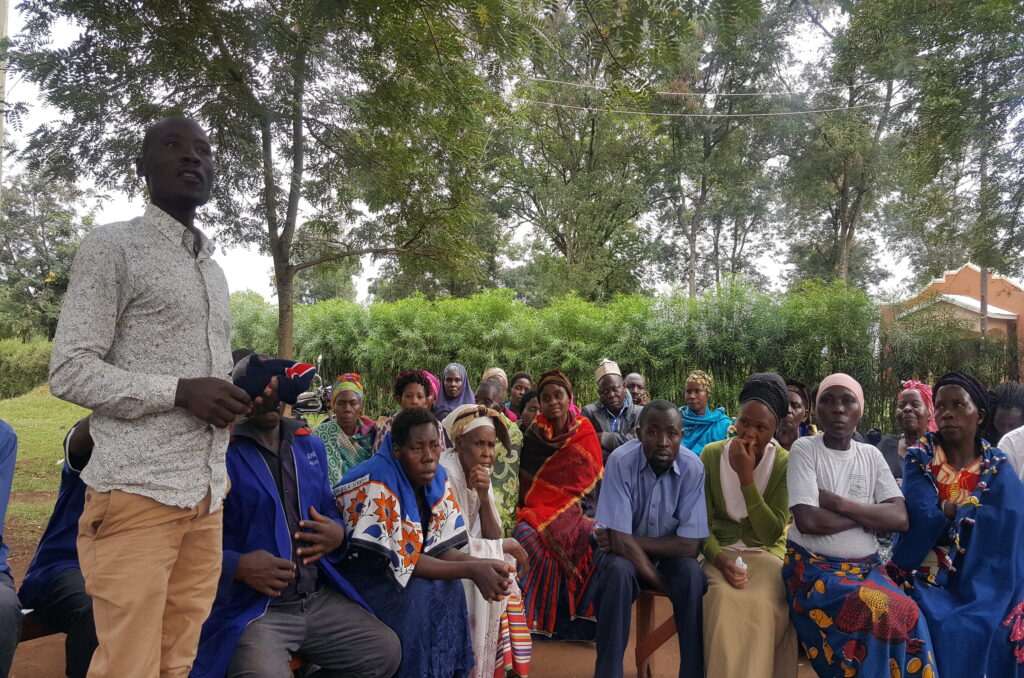 With funding from EU and HIVOS, Ruwenzori Consortium for Civic Competence which comprises of four organizations (KAALI, RICNET, GOOD HOPE and RIDE-AFRICA) we managed to implement a three year project on community action to prevent and mange conflicts and human rights violations in the Rwenzori region of Uganda in the districts of Kamwenge, Ntoroko, Kaseese and Bundibugyo.
Out of the six sub counties and four town councils in Ntoroko District RIDE-AFRICA implemented this project in 3 sub counties and 2 Town Councils of Ntoroko District and these include Bweramule S/C, Karugutu T/C, Nombe S/C, Rwebisengo T/C and Karugutu T/C.